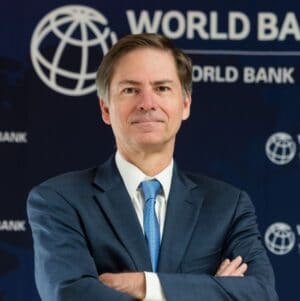 Carlos Felipe Jaramillo
Vice President for Latin America and the Caribbean Region
The World Bank Group
Carlos Felipe Jaramillo is the World Bank Vice President for the Latin America and the Caribbean Region, overseeing Bank relations with 31 countries and a portfolio of ongoing projects, technical assistance and grants of almost US$32 billion.
Jaramillo, a Colombian national, has been with the Bank for almost two decades. His career has spanned roles from a country director at the East Africa Country Management Unit, senior director of the World Bank Group's Macroeconomics, Trade and Investment Global Practice (MTI) and two terms as country director in the Latin America and Caribbean Region.
Prior to joining the Bank, Jaramillo held positions in Colombia's Ministry of Finance, the Central Bank, the Ministry of Trade and the National Planning Department (DNP). Jaramillo holds an M.A. and a Ph.D. in development economics from Stanford University. He has taught at the Department of Economics of the Universidad de Los Andes in Bogota and at the University of Maryland, College Park.