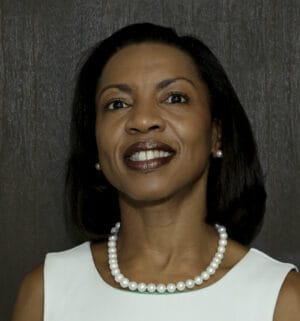 Diana Wilson Patrick
Acting Vice-President of Operations
Caribbean Development Bank
Diana Wilson Patrick is currently the acting Vice President (Operations) of the Caribbean Development Bank, a multilateral development financing institution based in Barbados and providing development finance to 19 borrowing members in the English, French and Dutch-speaking Caribbean. In this position, she provides strategic leadership and direction in the formulation and implementation of the Bank's strategies for the Operations Area, which comprises the following key functional departments or units: Projects, Economics, Corporate Strategy, Renewable Energy, and Energy Efficiency and Infrastructure Partnerships.
She holds the substantive position of General Counsel of the Bank. As the Bank's chief legal advisor, and a member of the Advisory Management Team to the President, she provides legal support in all areas of the Bank's work, including promoting private and public investment in the Caribbean region and mobilising financial resources from within and outside the region for the Bank's lending programme.
Mrs. Wilson Patrick is a graduate of the University of Bristol, England, and a member of Lincoln's Inn (called to the Bar – 1987).  She has also been admitted to the Roll of Solicitors of England and Wales and is admitted to practice in Jamaica, Barbados, Trinidad and Tobago and Guyana. She began her career at Freshfields, in their London office and also practiced in Jamaica, where she worked both in private practice and as head of the legal department at one of Jamaica's leading commercial banks.
Prior to joining the Caribbean Development Bank, Mrs. Wilson Patrick was a partner at Lex Caribbean, a regional law firm, where she led the firm's capital markets practice from Barbados and also managed the Jamaica office.  The primary focus of Mrs. Wilson Patrick's practice at Lex Caribbean was corporate finance, capital markets and mergers and acquisitions