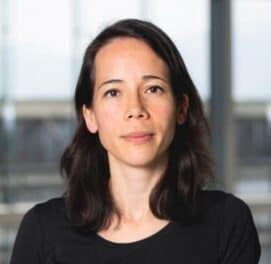 Aurélia Nguyen
Managing Director, Office of the COVAX Facility
Gavi, the Vaccine Alliance
In October 2020, Aurélia Nguyen was appointed Managing Director of the COVAX Facility.
The COVAX Facility is part of COVAX, the vaccines pillar of the Access to COVID-19 Tools (ACT) Accelerator, which is co-led by the Coalition for Epidemic Preparedness Innovations (CEPI), Gavi, the Vaccine Alliance and the World Health Organization (WHO) – working in partnership with developed and developing country vaccine manufacturers, UNICEF, the World Bank, civil society organisations and others. COVAX is the only global initiative that is working with governments and manufacturers to ensure COVID-19 vaccines are available worldwide to economies of all financial means.
Until her appointment as Managing Director of the COVAX Facility, Aurélia served as Gavi's Managing Director for Vaccines & Sustainability, leading the work of the Immunisation Financing & Sustainability, Policy and Vaccine Supply & Demand teams to design ways for Gavi's resources to support financially sustainable vaccine programmes and markets, and ultimately increase uptake of life-saving vaccines.
Prior to joining Gavi in 2011, Aurélia held a variety of posts within GlaxoSmithKline, where she led the development of GSK's policies on access to medicines and vaccines in the developing world.
Aurélia has also undertaken research for WHO on generic medicines policies. She is a certified accountant and holds a Master's degree in Health Policy, Planning & Financing from the London School of Hygiene & Tropical Medicine and the London School of Economics.