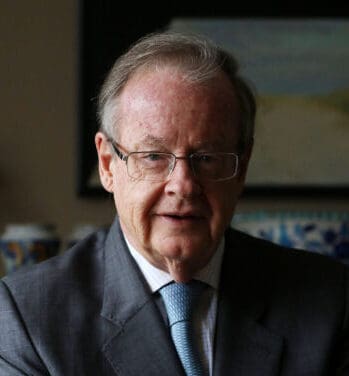 David Gallagher
Ambassador of Chile to the United Kingdom

Born in Valparaíso, Chile, 1944. Educated in Chile and England. BA and MA, Oxford University.
Oxford University Lecturer in the Literature of Latin America, and Fellow of St. Antony's College, Oxford, 1968-74.
With Morgan Grenfell 1974-84. Director of Morgan Grenfell International. Head of Morgan Grenfell's Latin American business, involved in the biggest financings in Latin America at the time.
Founded ASSET-Chile in 1984. ASSET-Chile is a Chilean based independent investment banking business, specialised in mergers and acquisitions, capital market financings, and advice to foreign investors in Latin America. Clients include leading mining investors in Chile (BHP, Anglo, Xstrata, Codelco, etc) and other leading foreign investors such as K+S (Kassel).
On the Board and Executive Committee of Centro de Estudios Publicos (CEP), the leading Chilean think tank, and on the Board of Consejo Chileno de Relaciones Internacionales and Peggy Guggenheim Collection (Venice).
Former Columnist in "El Mercurio" and frequent contributor to Estudios Públicos, and the TLS in London. Author of Modern Latin American Literature (Oxford, 1973), Improvisaciones (Santiago, 1991) and Otras Improvisaciones (Santiago, 2004).